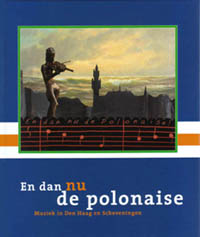 Bestel Uw Boek Nu! bij Uitgeverij Trespassers W En dan nu de polonaise een boek over muziek in Den Haag en Scheveningen. Het boek biedt een zeer breed overzicht van muziek in Den Haag, Van Scheveningse koren tot punk, van Jazz tot Rock & Roll + Electro + alles wat daar tussen zit.
Leo Bennink,Franky Westerkamp (Real Rhythm Teens) Klaasje vd Wal (Shocking Blue) Cor Gout (Auteur)
''Vinger aan de hoed voor de indorock''
Leo Bennink zijn vader en moeder waren bijzonder muzikaal. Ze draaiden platen van Al Jolson, Roy Rogers, Doris Day en Frank Sinatra en maakten zelf muziek. Allebei zongen ze en mijn vader speelde accordeon. Ik hield van hun muziek, maar ontdekte toch al gauw dat ik in de wieg was gelegd voor een ander genre: de rock'n'roll
1956 was het geboortejaar van de rock'n'roll. En de geboorteplaats? Eigenlijk: de bioscopen. Daar kon je de toonaangevende sterren zien: Roy Rogers, Rin Tin Tin, Lassie, Johnny Ray, Laurel & Hardy, Rosemary Clooney, Les Paul & Mary Ford en nog een paar die ik nu vergeet. Roy Rogers, 'de zingende cowboy', was mijn eerste favoriet van het witte doek. Eigenlijk was hij de eerste rocker op aarde. Wie goed oplette tijdens de films waarin hij acteerde, moest wel opmerken dat hij om de tien minuten een ander pak droeg. Net als Elvis in diens latere films!
Korte tijd later deden de echte rock'n'roll-films hun (rumoerige) intrede in de bioscopen: 'Rock around the clock met Bill Haley, Jailhouse Rock met Elvis Presley, en The Girl Can't Help It met onder meer Little Richard. Jonge mensen gingen zich met de helden uit deze films identificeren. Dat bleek bijvoorbeeld uit hun keuze van kleding en haardracht en uit hun manier van praten en doen.
De rock'n'roll-films draaiden in bioscopen als Thalia, Hollywood, Roxy, alle drie in de Boekhorststraat, en het Rembrandt Theater aan het Lorentzplein. Niet de fine fleur van de Haagse bioscopen, maar des te geschikter voor de liefhebbers van het genre. In die zalen konden ze immers loos gaan! Na afloop van zo'n filmvoorstelling werden er in de Haagse Boekhorststraat lantaarnpalen afgebroken. Voor ons was rock'n'roll het belangrijkste dat er bestond, maar in de Nederlandse kranten werd het verschijnsel goeddeels doodgezwegen.
The Real Rhythm Teens was een Indisch buurtbandje opgericht in 1959 door Otto Cramer en Franky Westerkamp. Zijn Nederlandse achterbuurjongen was de 14-jarige Leo Bennink. Otto kwam wel eens met zijn zelfgebouwde gitaar bij Leo thuis oefenen, omdat ze een Grundig bandrecorder hadden met zo'n groen katteoog en daar kon je een electrische gitaar inpluggen en direct opnemen. Op een keer liet Otto zijn gitaar bij de familie Bennink thuis staan. Leo had altijd aandachtig meegekeken en die avond lukte het hem al om wat grepen op die gitaar te pakken. Het ging toen snel want twee maanden later speelde Leo sologitaar op zijn Egmond gitaar bij The Real Rhythm Teens. Leo vertelde later: Als Otto toen die gitaar niet had laten staan was mijn hele leven misschien heel anders gelopen. Lees het boeiende verhaal uit dit boek van Leo Bennink over zijn muzikale avonturen bij onder andere The real rhythm teens,The rocking sensation boys,The travellers,The Twangies, The Special Five, The Black Albinos, The Jay Jays en The Motions.
Een exclusieve bijdrage over de opkomst en ondergang van het fenomeen Shocking Blue en de maakbaarheid van succes. Een update van mijn historische artikel Een kleine geschiedenis van de Shocking Blue Fanclub.
Op 5 september 2008 vanaf 18.00 zullen het Nederlands Muziek Instituut en de uitgeverij het boek officieel presenteren in en rond de aula van de Koninklijke Bibliotheek in Den Haag. Deze feestelijke gebeurtenis zal worden opgeluisterd door inleidingen en optredens van (muzikale) medewerkers aan het boek of van personen die in het boek worden beschreven. Voorts zal het eerste exemplaar van het boek worden uitgereikt aan een illustere Hagenaar.
De polonaise der auteurs wordt gevormd door Leo Bennink, Peter Bos, Arie van Breda, Arthur Crucq, Diederik Gerlach, Cor Gout, Henk Grootveld, Arend Jan Heerma van Voss, Immetje, Bert Jansma, Rudie Kagie, Otto Ketting, Herman de Kler, Huub Koch, Marte van der Loop, John van Markwijk, Rob Mindé, Evert de Niet, Gonny Ninaber, Wim Noordhoek, John Oomkes, Julius Pasgeld, Jaap Pronk, Karel de Rooij, Leo Samama, Peter Schröder, Robert-Jan Stips, Kees Tazelaar, Aleid Truijens, Wouter Turkenburg, Hans Vandenburg, Wim Verbei, Ruud Vermeer, Skip Voogd, René van der Voort, Wim Vos, Paul Waayers, Victor Wentink, Wim Willems, Chris Willemsen, Harry Zevenbergen, Luther Zevenbergen, Rob van der Zwan en Frits Zwart. Redactie: Cor Gout, Harry Zevenbergen, John van Markwijk.